Elsa Youngsteadt is an entomologist science writer based in Raleigh, North Carolina. As a postdoctoral research associate in the lab of Steve Frank at North Carolina State University, she studies the effects of climate and urbanization on insects–especially insects that damage urban shade trees. Her PhD research, also at NCSU, focused on chemical communication between ants and seeds in Neotropical ant gardens. There's more about this and related projects on the research page.
Her science writing has appeared in Science, PRI's The World, and other publications. She has written about topics from composting with worms to simulating space junk with giant gas guns.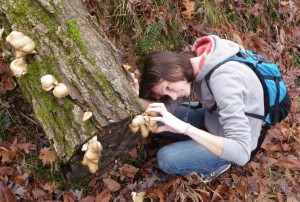 Elsa is also excited about sustainable agriculture, running, rock-climbing, and motorcycles, and spends an awful lot of time in the yard farming vegetables, chickens, native plants, and pollinators with her husband, Skinny.