Elsa is fascinated by mutualisms (cooperative interactions between different species,) and the communication signals that help them work. Ants are her favorite mutualists, and they got involved in both her masters and Ph.D. research.

Farmer Ants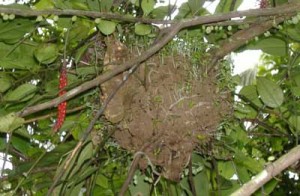 Throughout the Amazon, a few species of ants build their nests in trees and embed seeds of specific plants in the nest walls. The plants grow, forming conspicuous hanging gardens. The plants don't grow anywhere else, and if the ants don't have the plants, their nests fall apart during the rainy season. (Click here to go to video of the ants picking up the seeds.)
What keeps these particular ants and seeds together? At least some of the ant-garden seeds attract only gardening ants, while other ants seem to dislike the seeds. The seeds have a strong smell, some components of which attract the gardening ants from a distance and help them find the seeds. Then additional chemical cues on the seeds prompt the ants to pick up the seeds and carry them to their nests.

Carnivorous Caterpillars
At the University of Wisconsin-Milwaukee, Elsa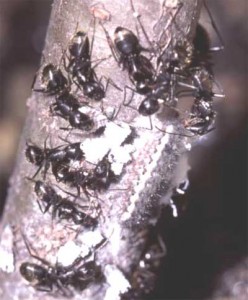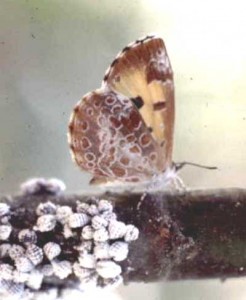 studied North America's only predatory butterfly caterpillar, Feniseca tarquinius. This caterpillar eats aphids, small immobile insects that excrete a sweet syrup that ants like to eat. The ants usually defend the aphids in exchange for this honeydew. But they leave Feniseca caterpillars alone.
The reason? Aphid chemistry rubs off on the caterpillars, fooling the ants into thinking that the predators are just extra-large aphids.
Publications
Youngsteadt, E., Guerra, P. and Schal, C. 2010. Divergent chemical cues elicit seed collecting by ants in an obligate multi-species mutualism in lowland Amazonia. PLoS ONE, 5: e15822. link
Youngsteadt, E., Alvarez, J., Osborne, J. and Schal, C., 2009. Species specific seed dispersal in an obligate ant-plant mutualism. PLoS ONE, 4:e4335. link
Booth, W., Youngsteadt, E., Schal, C. and Vargo, E. 2009. Characterization of 8 polymorphic microsatellite loci in the neotropical ant-garden ant, Camponotus femoratus. Conservation Genetics, 10:1401-1403. pdf link
Booth, W., Youngsteadt, E., Schal, C. and Vargo, E. 2009. Polymorphic microsatellite loci for the ant-garden ant, Crematogaster levior (Forel). Conservation Genetics, 10:639-641. pdf link
Youngsteadt, E., Nojima, S., Häberlein, C.,Schulz, S. and Schal, C. 2008. Seed odor mediates an obligate ant-plant mutualism in Amazonian rainforest. Proceedings of the National Academy of Sciences, 105: 4571-4575. link
Youngsteadt, E., Fan, Y., Stay, B., and Schal, C., 2005. Cuticular hydrocarbon synthesis and its maternal provisioning to embryos in the viviparous cockroach Diploptera punctata. Journal of Insect Physiology, 51: 803-809. pdf
Youngsteadt, E. and DeVries, P. J., 2005. The effects of ants on the entomophagous butterfly caterpillar Feniseca tarquinius and the putative role of chemical camouflage in the Feniseca-ant interaction. Journal of Chemical Ecology, 31: 2091-2109. pdf

Dissertation
Neotropical Ant-Gardens: Behavioral and Chemical Ecology of an Obligate Ant-Plant Mutualism. link

In the News
Miller McCune "Curiouser and Curiouser" podcast February, 2011
BioScience March, 2008
NCSU News Jan 30, 2008
ScienceNOW ("Smelly seeds") Jan, 2008